Wiskind China Group Introduction
Founded in 1978, Wiskind Group is mainly specialized in such businesses as manufacturing of architectural steel products and cold-rolled steel, as well as the trade of coated steel sheets. As a company of the Group and a national hi-tech enterprise, Shandong Wiskind Architectural Steel Co., Ltd. which was listed on the new OTC market in 2014, is a specialized manufacturer and service provider of metal cladding system and steel structure products.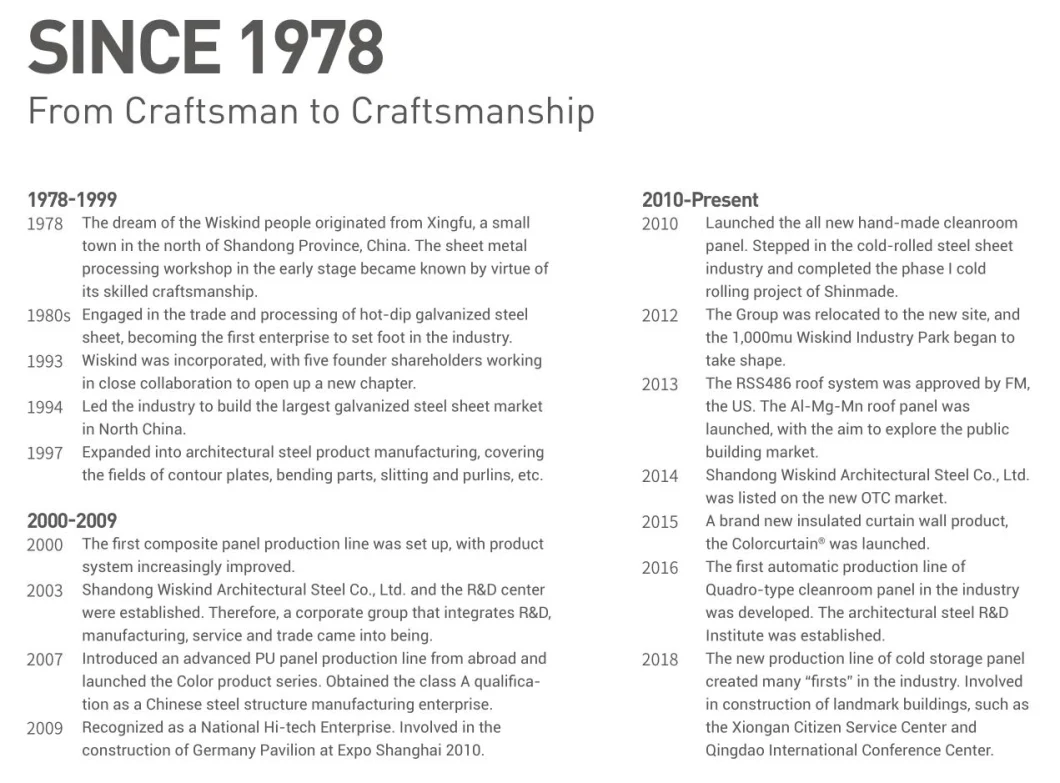 European quality

We have introduced cutting-edge equipment from Italy's OMS and have a 42-meter double track, which is the longest track in China's sandwich panel industry,A track ten meters longer than the competition can increase the curing time by 30%,allowing the core material to be cured more fully, the board performance is more stable, and the quality is better.
Wiskind Sandwich Panel Introduction
50mm/100mm/120mm/150mm Rock wool Sandwich Panel Facade Production
1.Color gold(Hidden Screw)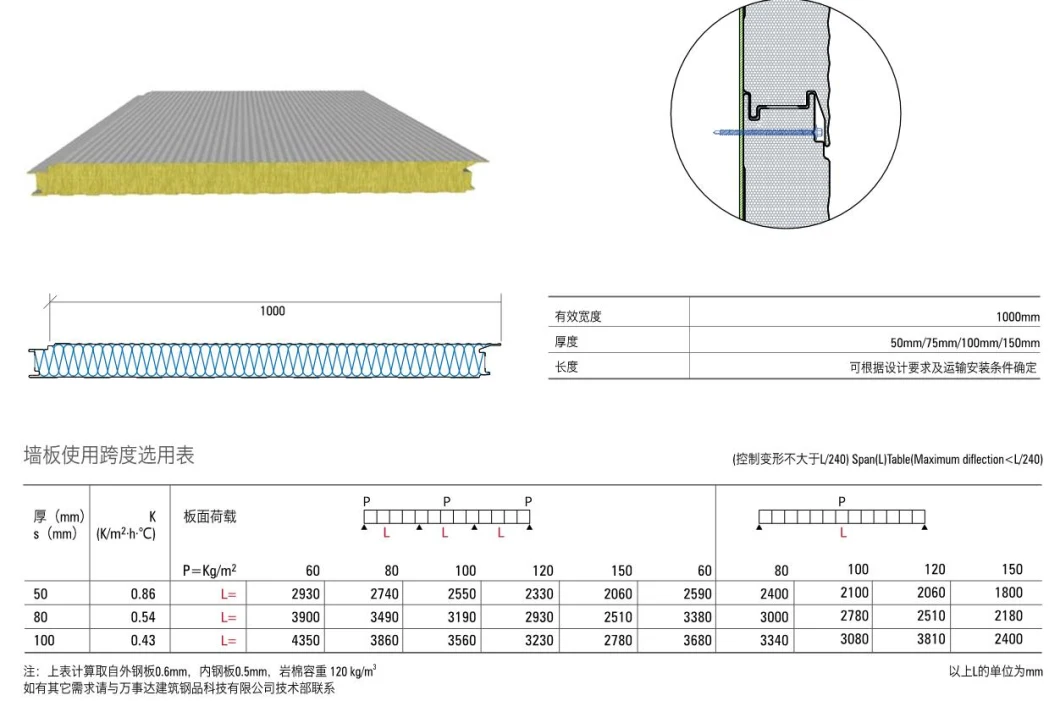 Product Parameters:

| | |
| --- | --- |
| Brand of steel plates | Bao Steel, Yieh Phui Steel, Ma Steel, BHP Steel. |
| Painting of steel plates | PVDF, SMP, HDP, PE; The top painting should be above 25μm. |
| Galvanized layer of steel plates | Exterior plate:55% Aluzinc above 100g/m³or Zinc coating above 150g/m³; Inner plate:55% Aluzinc above 70g/m³or Zinc coating above 100g/m³. |
| Thickness of steel plates | 0.14mm-0.6mm. |
| Thickness of core | 50mm/75mm/100mm/120mm/150mm. |
| Density of core | 90/100/120kg/m³ |
| Effective width | 950/1150mm |
| Panel Length | According to customers' request |


Performance Description:

1.Fire Prevention: High-quality water-proof rock wool and class-A fire-proof performance.
2.Thermal Insulation: The low coefficient of heat conductivity and the excellent node design guarantee the sealing performance and the thermal insulation effect.
3.Sound Insulation: The sound reduction factor is no less than 30dB. It can effectively reduce the interference of outside noise.
4.Solid: The panel has high strength, unique double-support plug interface design and strong capacity in wind pressure resistance,which can used as exterior protected construction and load-carrying construction.
5.Beautiful Design: Bright in color and attractive in appearance, there is no need to make the outer ornament. The panel adopts hidden-screw node design and has diversified panel effects.
6.Convenient Installation: Easy, flexible and fast. Compared with civil construction, it can cut down over 40% construction period.


2.Color Pod Rock Wool/Glass Wool + PU Seal Sandwich Panel(Hidden Screw)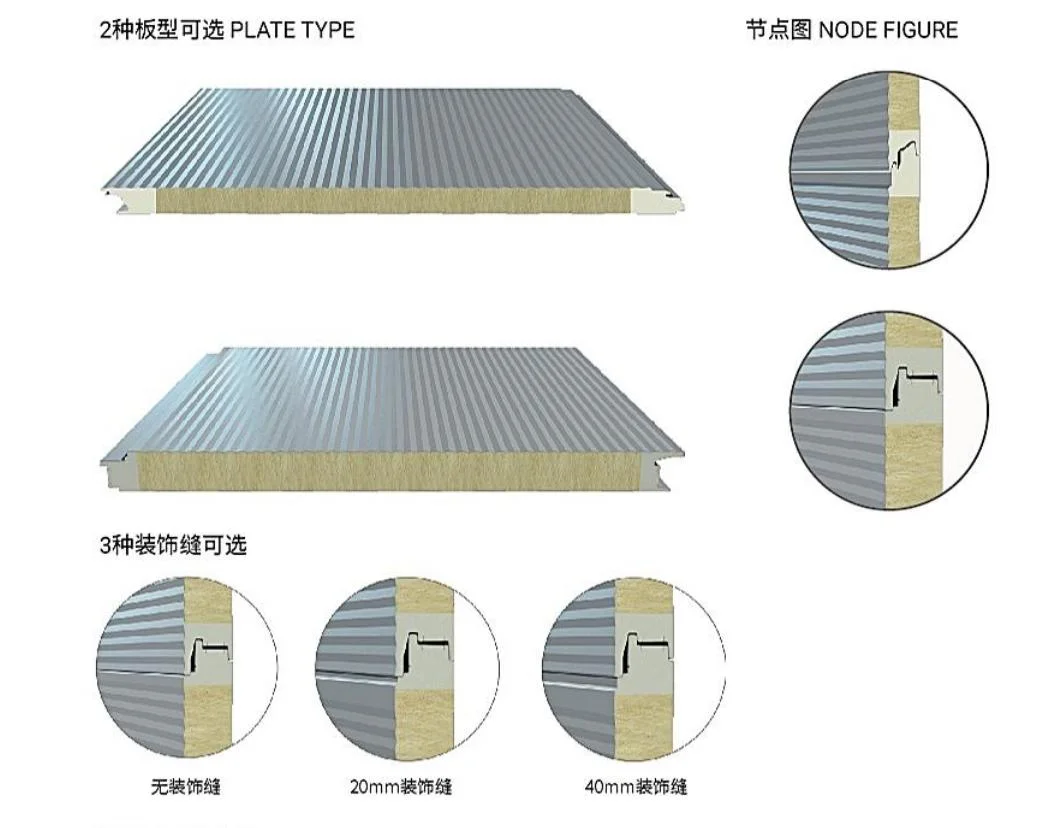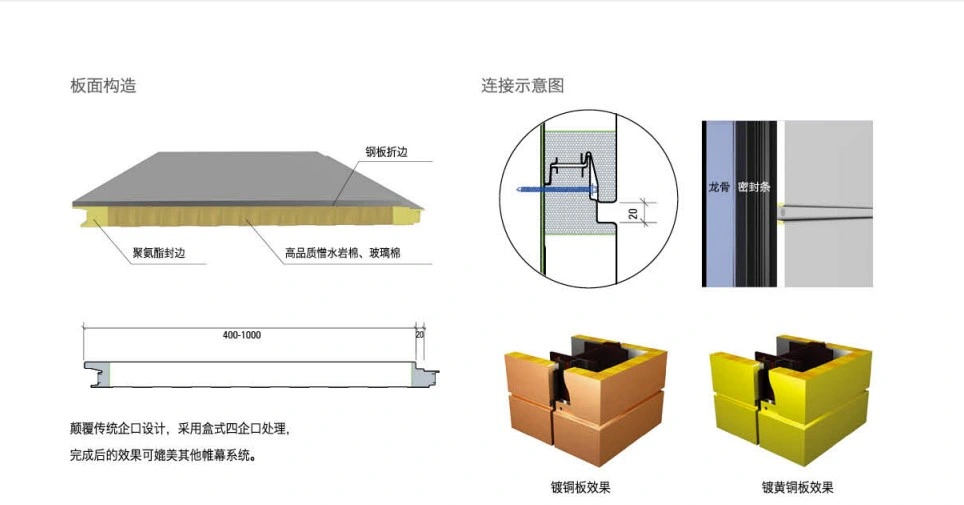 Performance Description:
1. The flame resistance level reaches the level A.
2.The two edges of the tongue-and-groove is filled with polyurethane foams, which effectively stops heat conduction and rain leakage, prevents reduction of strength and thermal insulation performance caused by moisture absorption and makes fireproof and thermal insulation performance more durable.
3.The high volumetric weight core material guarantees better thermal insulation performance (the volumetric weight of rock wool core material ≥ 120kg/m3, the volumetric weight of glass wool ≥ 64kg/m3).
4.The fireproof wool rotates 90°so that the wool fiber is perpendicular to the panel and the strength of pressure and tension resistance increases by 50%.


3.950/1150 Rock wool sandwich panel(Obvious Screw)

The Research Institute & the Central Laboratory
Wiskind has set up a first-class professional Research Institute and Central Laboratory in the country, which has been recognized as Shandong Provincial Level Enterprise Technology Center. The Research Institute established through collaboration with Shandong University is equipped with more than 40 sets of specialized equipment, and dedicated to the testing of physical, mechanical and combustion properties of raw and auxiliary materials, final products, in addition to the R&D of new products. The operation of the Central Laboratory follows the international standards, and product quality control is classified into five modules, i.e., raw and auxiliary material inspection, product testing, process audit and laboratory inspection, which truly allows a seamless quality control process from raw material purchase, to inspection of final products, so as to guarantee a stable product quality.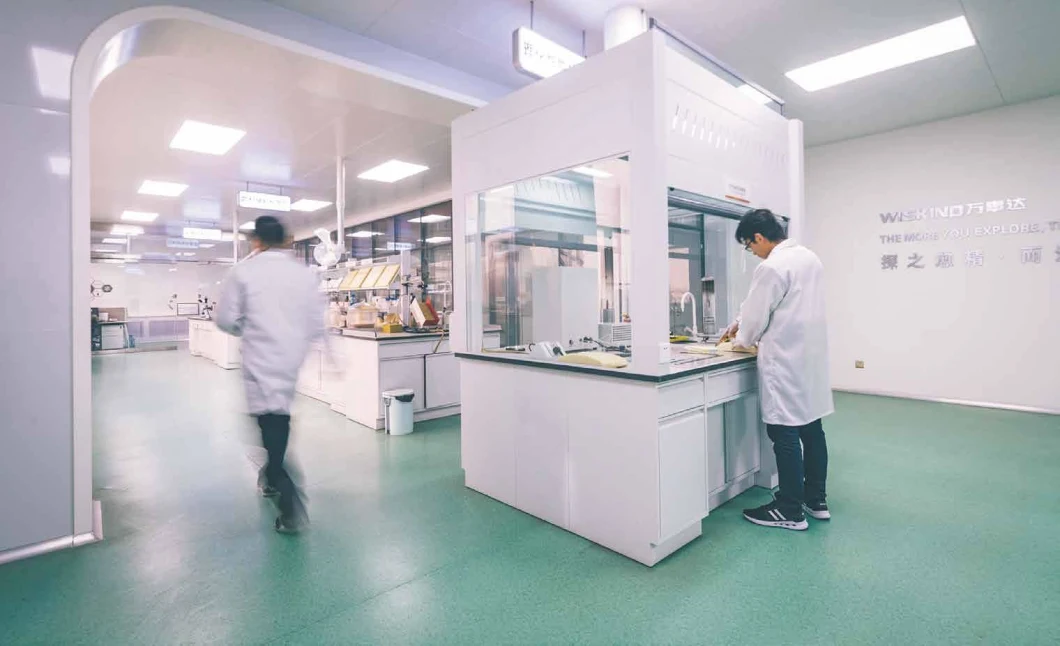 Certificate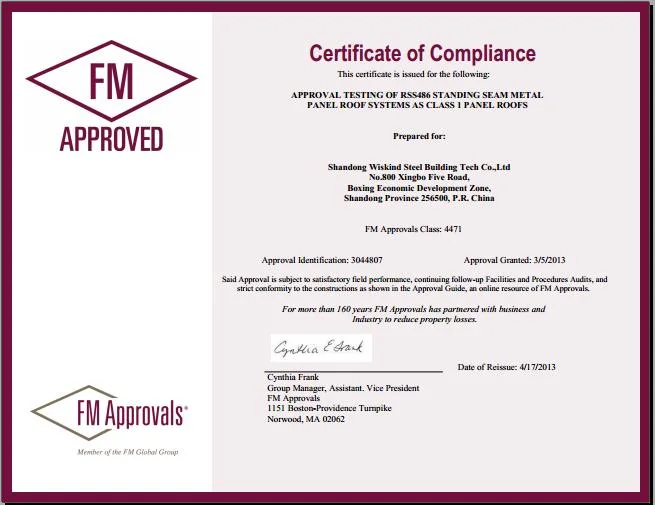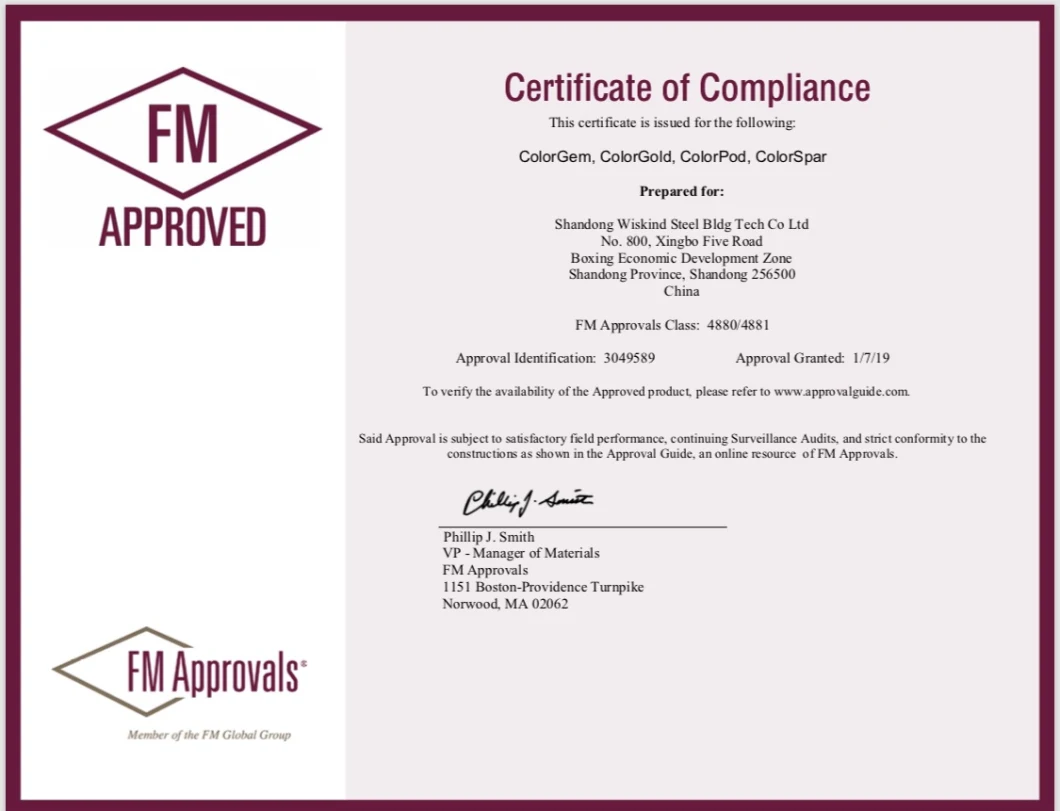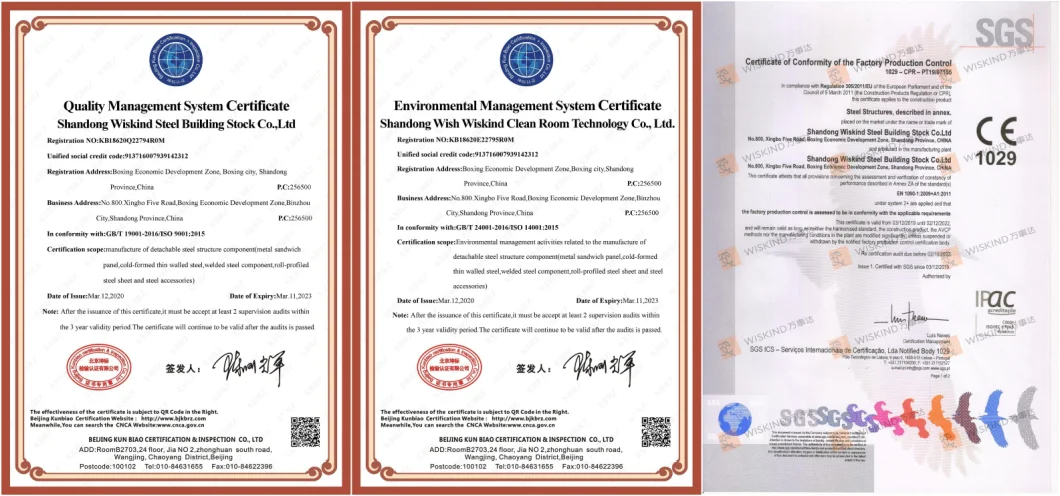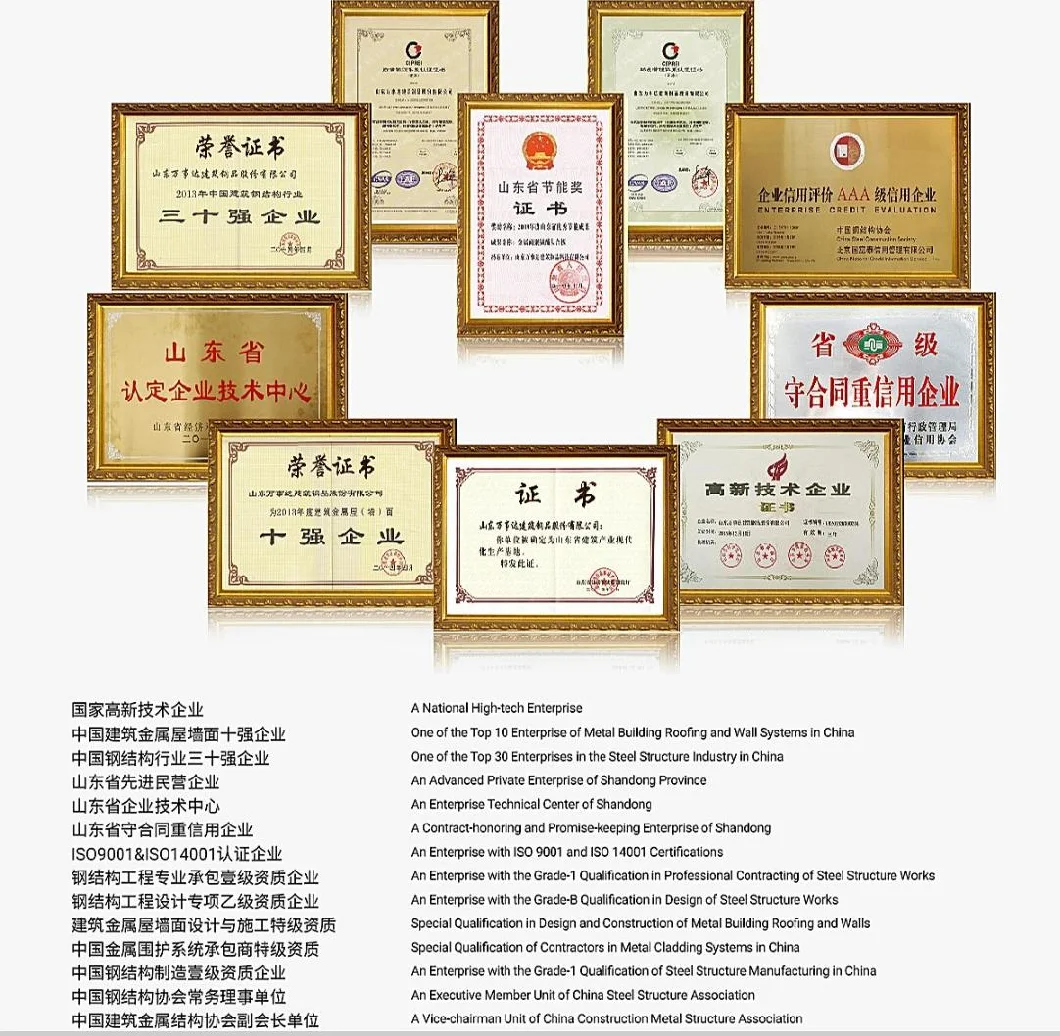 BUILDING FOR BEAUTY AND ETERNITY
Qingdao
Xiaojianxi Domestic Waste Incineration Power Plant