Product Description
Cmsms solar ground mounting systems involve comprehensive and multifunctional ground mounting solutions, for solar installations applications ranged from small solar power systems for home to large MW solar power stations, to provide the system great compatibility and convenience, and largely saving the installation time and labor cost.
1.Wind Load:

60m/s

7.Application:

Open Ground

2.Snow Load:

1.4KN/m2

8.Rail Material:

Aluminum

3.Span Range:

2.8m~4.0m

9.Hook,Screw Bolt,Screw Nut Material:

SUS304

4.Concrete Base Posistion Error Range:

±10mm

10.Solar Panel:

Framed or Frameless

5.Warranty:

10 years

11.Installation Direction:

vertical or horizontal

6.Installation Angel Error Range:

±2°

12.Standard:

GB50009-2012,DIN1055,IBC2006, AS/NZS1170.
Main Features
1.Widely Application
The structure is 100% made of high intensity aluminum frame,with the quality of anticorrosion,light weight and strong intensity. It can be used in extremely bad installation condition.
2.Strong Compatibility
It not only can fit for different PV kits, but also can work with different PV arrangements which can be interchange randomly.
3.Safety and Reliability
Load-bearing,wind resistance and seismic resistance has been given sufficient consideration. All of these functions have been tested extremely, which will ensure the safety of the system.
4.Easy Installation
Most of the parts can be pre-assembled on factory, which not only can to save your install time, but also your cost.
5.Flexibility
Considering the construction error, the structure has been well-design that make it can adjust flexibly.
6.10-Year Warranty
10-year warranty for the mounting system, extended service life
Ground Mounting type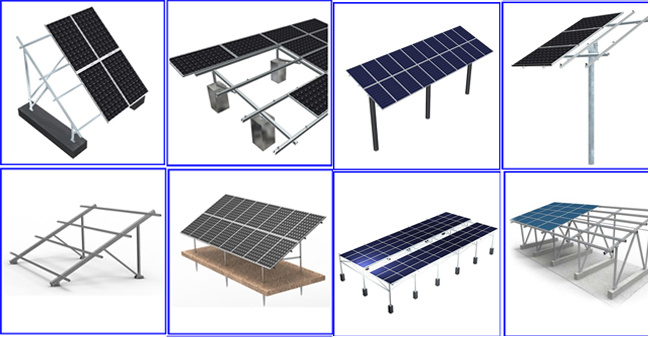 All-aluminum Ground Mounting System


Aluminum mounting solutions provide solar mounting systems made of 100% high class anodized Al 6005-T5 to be installed on both concrete foundations and ground screw foundations. All the aluminums have been anodized with a thickness on the surface to reach high anti-corrosive for using outdoor. It is light and strong, graceful and smart.
Universal triangle supporting structure


Solar PV ground mounting solution applies to concrete structures based PV power plant installation. Using 100 percent high-strength aluminum structural parts, the system obtain features of good corrosion resistance, light weight, high strength, and delicate appearance. Pre-assembled support structures improve the installation efficiency, saving time and labor costs for the construction of large-scale photovoltaic projects.
Ground Screw Mounting System
Ground solar PV mounting system is designed for commercial and public solar PV plant. It can be applied for varied non-fossil soil types .This solution adopt integrated design of pile and post with simple structure, possessing the features of strong wind and snow load resistance, improving the installation efficiency. The finish of the C shape steel piling is hot galvanized with good anticorrosion quality.
Pole Mounting system
Pole Ground Mounting System is applicated to install the solar panels on a single pole. According to different conditions, thereare several kinds of solutions for your choice Grace solar pole mount system is attached importance to the safety and duration. The systems have been calculated complied with the structural mechanics and tested strictly. Its material surface of the parts,such as steel and aluminum, are all finished to get a great anti-corrosion for at least twenty years of outdoor use.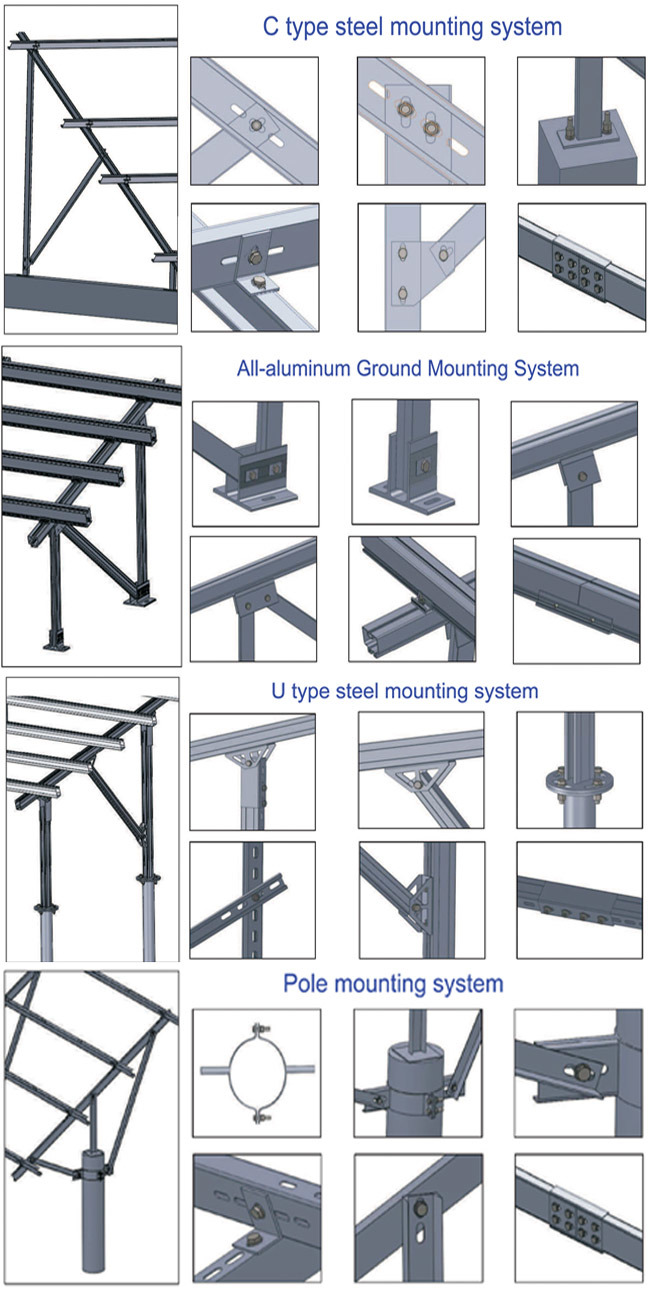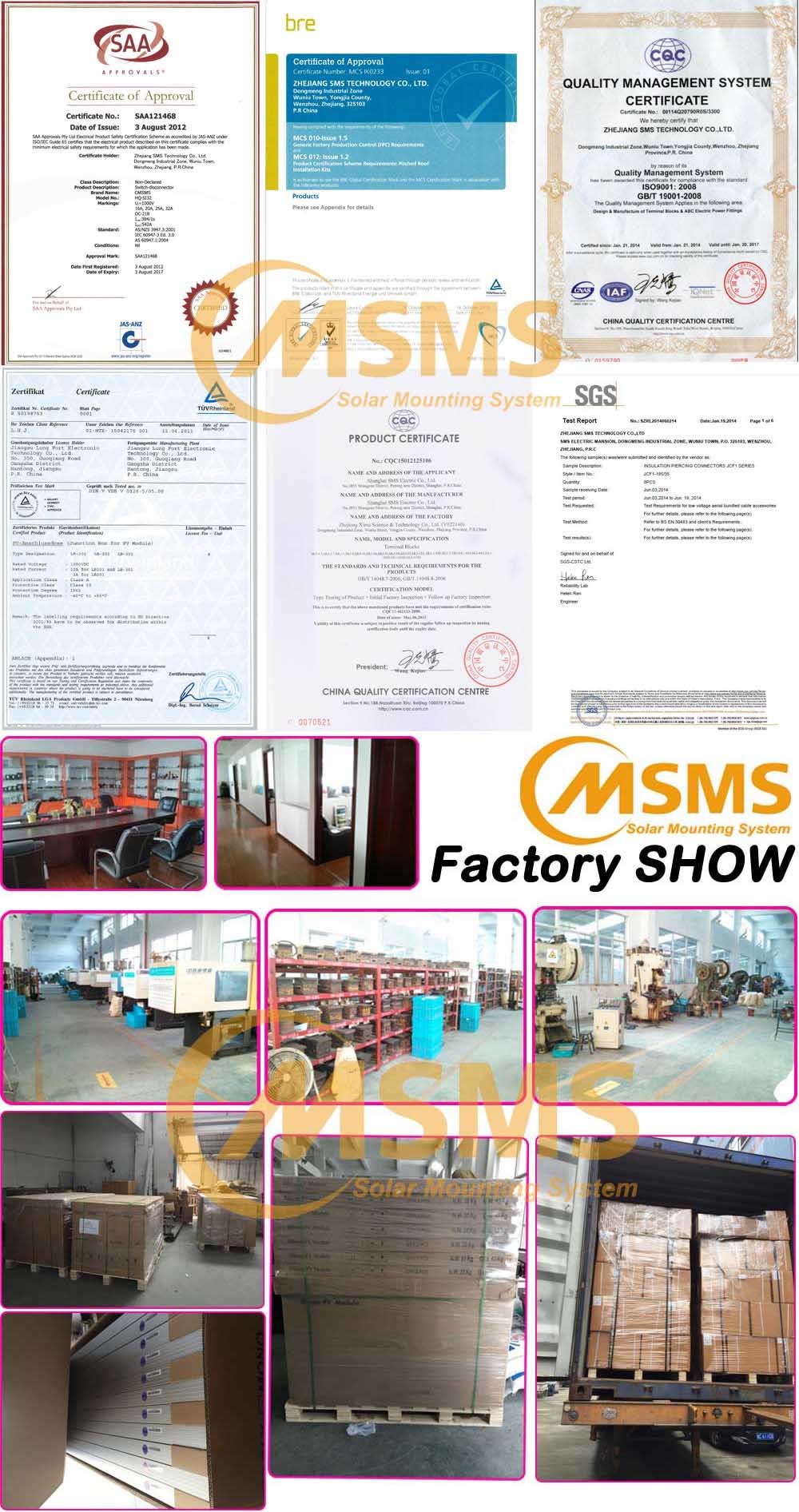 Ms. Cindy
Mob:13777728258
Tel:0577-67303786
Fax:0577-67303787

Address : Dongmeng Industrial Zone, Wuniu Town, Wenzhou, ZHEJIANG, CHINA