Mobile Phone Signal Audio Jammers Noise Generators For Mobile Phones And Digital Recording Pens
Audio Jammer AJ100
Please Contact with us at:
Mr.Jerry
Phone:+86-13603042894
Introduction of Equipment
1.List of Product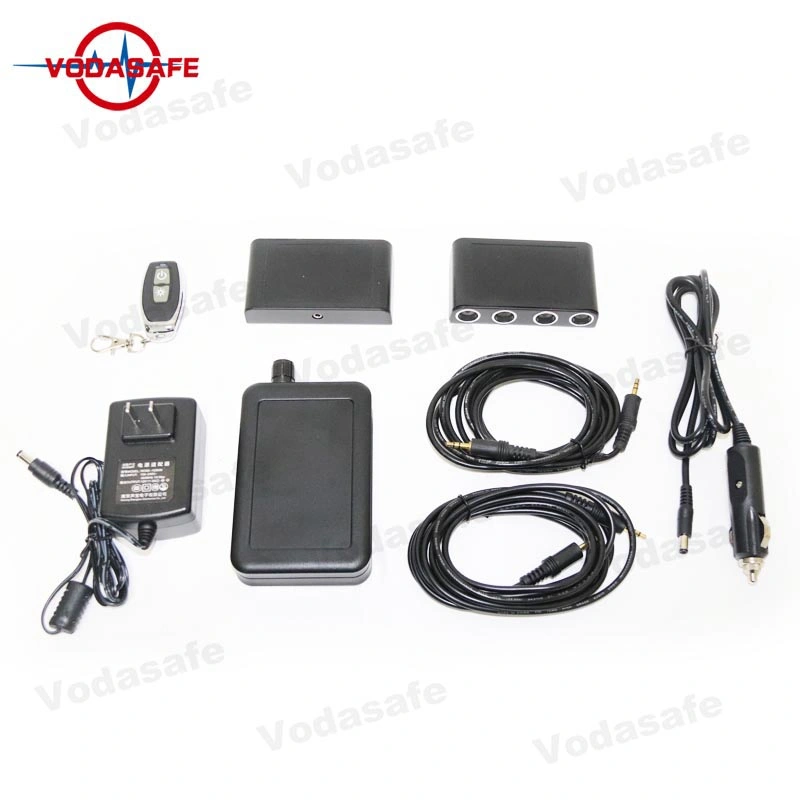 2.Introduction of Equipment Units
Instructions:
After getting the product, check the package: one audio jammer, two extenders, two power adapters, two connecting wires.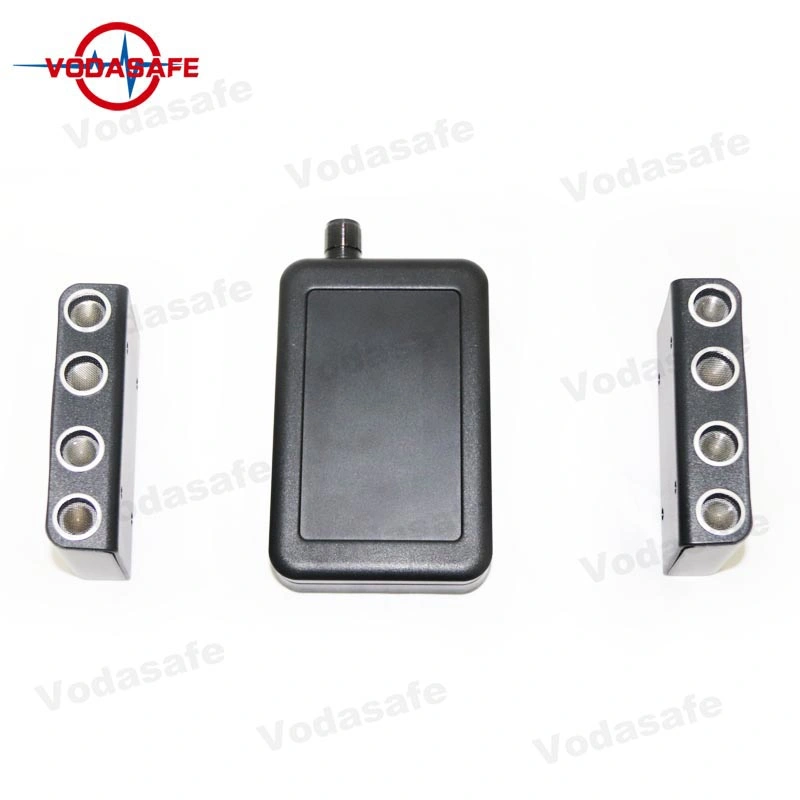 1.Equipment Connection and Boot-up
Hold the audio jammer AJ100, take out connection cable, insert one plug of the connection cable into the extender interface in front of the audio jammer AJ100, and the other plug into the interface above the extender. After connecting the two extenders, plug in the power adapter, turn on the red indicator light of the audio jammer AJ100 by turning on the switch knob, the jammer is in the standby state, and press the unlock button on the remote controller to start using the jammer.
2. Use of Audio Jammer AJ100
After boot-up, adjust the position and angle of the extender according to the usage scene. There should be no obstruction in front of the extender. The principle of placing the extender refers to the following figure and video. After placing the extender, the extender is tested with recording equipment and the power knob is adjusted to achieve the best shielding effect.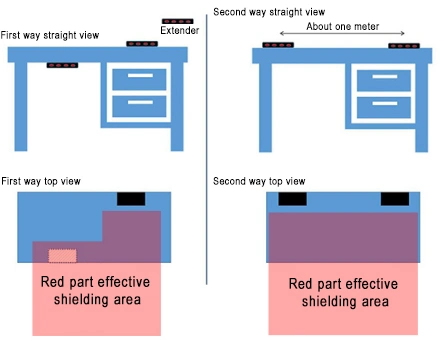 3.Applications
This AJ100 recording shield jammer independently researched and developed by vodasafe, it is a high-tech safety protective apparatus with high level of integration. In case of being illegally recorded via recording devices (such as mobile phones, recording pens and recorders and so on), the recording shield will generate random noise signals which can oppressively interfere with speech signals so that only noise information is picked up by recording devices and the speech information cannot be distinguished to make sure of safety of speech information. Generally applied: head office, confidential meeting room, military operation room, business negotiation room and any other places which need to be protected from being recorded.
4.Tests and Notes
Radio-frequency signals are employed to shield from the recording in this product, so the slight noise after turning on the equipment is normal and in addition reactions of people of different ages to noise are different and this noise have no influence on human body.
During testing, under the stimulated real operating environment, the communication needs to be at a normal volume and increased volume is unnecessary, and the best software are adopted in this product with the combination the noise in the device and practical of shield coverage, and user can ask software of special version for us in case of special needs!
Notes: there will be best effect of shielding when emission terminals of desktop recording shield are directly facing recording devices.
Specifications:
| | |
| --- | --- |
| Items | Performance parameters |
| Shielding objects | Mobile phones, digital recording pens, recorders and any other device for sound acquisition |
| Shielding effect | Above 83% |
| Shielding distance | 1-2m |
| Shielding angles | Horizontal 90°-120°/vertical 90°-120° |
| Weight | 250g |
| Size of product | 122*78*27mm |
| Power supply mode | Built-in battery/power adapter |
| Operating current | 0.1A |
| Interference mode | Acoustic interference |
| Interference strength | 85dB |
| Operating temperature | -30ºC~40ºC |
| Material of shell | Plastic |
| fittings | Host, expander, power allocator, special connection line, equipment packing box |
Safety Cautions:
Carefully read the following safety cautions before use:
In case of the following circumstances, turn off equipment immediately and plug power adapter out of the outlet.
1. Power failure or voltage instability.
2. Abnormal noise or smell from the inside of equipment.
3. Damages to power adapter.
4. Damages to equipment due to falling off, being knocked on and being impacted.
5. Falling of any other fluid or foreign bodies into the shell.
Warm Warning
1. Don't use any other power supply other than 220V AC, 50 Hz.
2. Don't refit or damage equipment and power adapter.
3. Don't employ other power adapter to charge the equipment.
4. Don't assemble and disassemble equipment in any way by yourself, and all of repair should be consigned to professional technicians.